Rosboro Manufactured Timber | RMT®
Rosboro RMT® is a size-for-size, grade-for-grade manufactured timber
alternative to Douglas Fir timber.
Advantages
Certified under the same lumber grading rules as solid sawn, Rosboro RMT®

 

is structurally engineered to meet or exceed the same solid timber stress ratings
Manufactured to uniform dimensions, so it's completely interchangeable with solid-sawn timber of the same size and grade
Preferred lengths are no problem
Uses readily-available standard timber hangers, not more costly glulam-sized hangers
Because it's kiln-dried to a moisture content of less than 15 percent before assembly, it resists twisting, splitting, cupping, and warping
Dimensions
Available in specified lengths up to 60′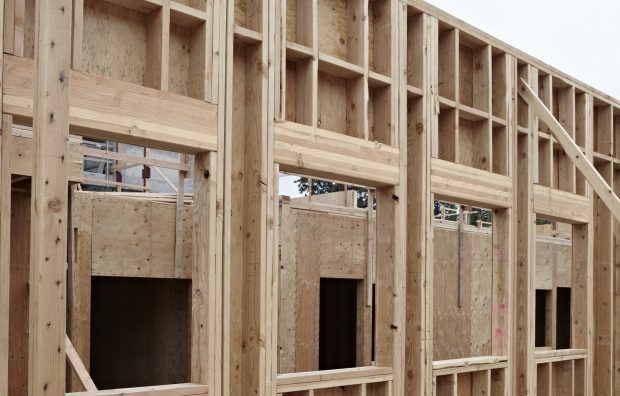 Considering custom glulam? Contact us now to speak to an expert.
How has Rosboro worked to improve quality?
In our commitment to Building Better™ for you, Rosboro has invested in new technology throughout the stud mill. Our improvements at the headrig, resaw, and edger systems help us hold better size tolerances. Our improvements at the dry kilns give us better drying consistency and our new planer auto grade and sorter systems allow us to offer a wide variety of premium quality products for you.
Is Rosboro RMT a direct substitute for solid sawn lumber and timbers?
Yes, Rosboro RMT products have been certified by the West Coast Lumber Inspection Bureau (WCLIB) to be interchangeable with dry solid sawn lumber and timbers. All RMT products are manufactured to meet or exceed the WCLIB criteria for a Douglas Fir No. 1 design values.
Is CLT "Cross Laminated Timber" the only way to build a solid wood floor system?
No, there are other decking options that give you the solid wood floor look and feel such as nail laminated decking (NLD), Glue Laminated Decking (GLD), and other products with lumber orientated vertically. Glue Laminated Decking has been around for decades, used primarily for wood bridges and industrial floors. With the expansion of mass timber construction GLD is an ideal option because it is easier to design, easier to install, and is stronger than CLT.