Get the custom fit you need.
Western Structures is your premier source for custom glulam. We can maufacture beams in a wide variety of appearances, grades, sizes, and shapes. Give us a call and we will help make your next project a success.
Flexibility of Custom Glulam
Beams can be built-to-order based on the unique needs of the job
Can be tailored to a wide range of structural and industrial uses
Pressure treating of Douglas fir glulam beams can be provided to your specifications
Alaskan Yellow Cedar beams available when a naturally durable species is preferred over treated products
Lead times as short as 1 week for those must-have orders
Appearances Offered
Architectural
Industrial
Framing
Premium
Premium Hand Select (Best)
Rough Sawn 
Rosboro is the single source manufacturer for all your glulam beam needs. When your project requires something special, we are here to help. Custom orders can be packaged with stock shipments through our extensive network of wholesale distributors.
Species
Douglas Fir
Alaskan Yellow Cedar
Widths
1½″ through 16¼″ finish width
Depth
3″ through 53″ – call for depths outside this range
Radius (Camber)
0″ Camber up to 40′ inside radius
Special Finish
Rough Sawn 3 or 4 sides
Chain Saw Rough Sawn on depths over 24″
Fabrication and Other Services
Incising
Pressure Treatment to Buyer's Specifications
Some Corbels, Pads, Bevels and Special Cuts
Other Customizations may be available upon request.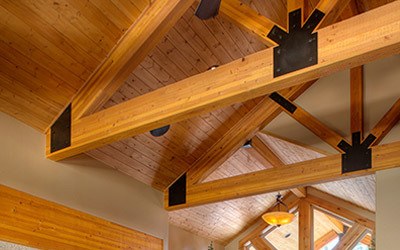 Considering custom glulam? Contact us now to speak to an expert.
What is camber?
Camber is a "crown" purposely built into a glulam at the time of manufacture. It is most often desired in long span applications to counteract dead load deflection. Camber does not affect the strength of the beam. Residential stock beams are normally made with either a 5000′ radius or zero camber, while other engineered wood products are zero camber. Most residential spans are less than 24′, and the camber derived from a 5000′ radius falls inside industry accepted manufacturing tolerances for zero camber beams. Stock glulam beams are increasingly popular because they contribute to a "flat" framing system without humps. The slight radius also reduces deflection or sag on longer spans.
How long is the lead time for glulam beams?
Rosboro's flagship glulam is the stock X-Beam
®
, and our distribution partners keep the most commonly used sizes of X-Beam
®
in inventory. This means you can typically get your beams delivered the same or next-day. For more unique beams, our Western Structures division can custom manufacture and ship as quickly as one week from time of order. You can locate a Rosboro distributor by visiting
https://rosboro.com/find-a-distributor/