Buy the column that fits.
Rosboro X-Beam™ glulam columns are the most cost-effective option on the market today.
Advantages
Allows builders to run framing from floor to ceiling with one continuous piece
Same column material can be used for the horizontal framing in tall wall construction
Architectural appearance
Surfaced on four sides and all four edges are eased.
Dimensions
These glulam columns remain straight and true and are inventoried in the following sizes: 3-½″ x 6″, 5-½″ x 5-½″, and 5-½″ x 6″
Other cross sections are available on a custom order basis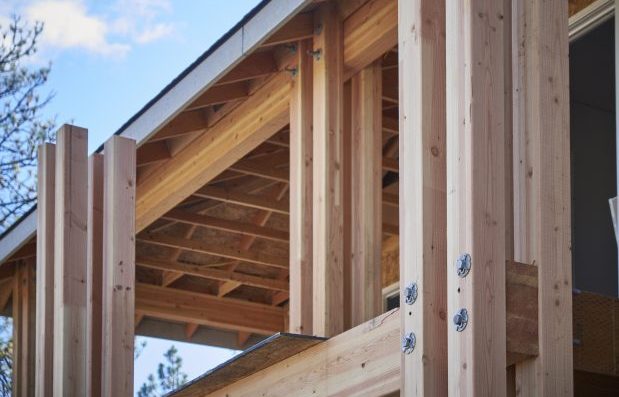 Considering custom glulam? Contact us now to speak to an expert.
Can glulam products be exposed to the elements?
Untreated glulam that is normally used in residential construction is not recommended for exposed conditions. Although waterproof adhesives are used in the manufacturing of the beams, Douglas Fir and Southern Yellow Pine woods react unfavorably without proper care. Pressure treatment to American Wood Preservers Association (AWPA) standards, use of naturally decay-resistant wood species such as Alaskan Yellow Cedar, or maintaining a weather-resistant surface coating is required. We have found that any Type A–Oil; Type C–Light Hydrocarbon solvent carriers work well with glue laminated beams. We do not recommend the use of waterborne treatments such as ACQ and ACZA because it will damage the wood fibers in the beam. Waterborne treatments will void any manufacturers' warranty.
What's the difference between "wet-use" and "dry-use" conditions?
"Wet-use" and "dry-use" are terms associated with end-use conditions and their applicable design stresses. Intermittent exposure to the elements, followed by drying, still refers to "dry-use" even though the glulam beam could be described as wet. The technical measure of "wet" is consistent moisture content within the beam of greater than 16 percent. It is important to emphasize that a moisture content of 16 percent is rarely reached unless the beam is submerged in water, subjected to an artificially humid moisture condition, or in direct contact with the ground. Even in a highly humid artificial moisture environment, moisture content of 16 percent is only reached under unique combinations of relative humidity and temperature. For example, even a beam in an environment having 80 percent relative humidity and a temperature above 70 degrees Fahrenheit will not reach equilibrium moisture content of 16 percent. Because this combination is rarely found in the U.S., ambient-air conditions rarely result in wet-use conditions. However, pockets of moisture may collect even though the wood is protected from decay hazards by pressure treatment.
Do you publish a price list?
If you would like a price list, please contact our Lumber Sales office at (888) 393-2304 and we'll get you set up.
Can I wrap my Glulam with siding or other materials?
We do not recommend fully encasing a glulam beam, especially in exterior applications. If any type of siding or decorative piece is specified, make sure the beam has adequate ventilation and weep holes to prevent excess moisture from puddling.
What type of glue is used to produce Rosboro glulams?
We use a resorcinol resin that is brownish-red in color for all of our glulam products. This is a waterproof adhesive, however glulams will still need to be pressure treated if intended for use in exterior applications.