Buy the beam that fits.
Rosboro X-Beam™ 24F-V4 glulam is the most cost effective Engineered Wood Product on the market today and our flagship product. It is widely-used for a number of applications.
Advantages
Up to 25% savings compared to laminated veneer lumber (LVL)
Architectural appearance
Matches standard framing dimensions
Made from renewable second growth resources
Great choice for your short door and window headers because it fits flush with framing
Greater widths relative to conventional glulam equate to increased load-carrying capacity (up to 12% for 3-1/2″ and 7% for 5-1/2″)
Uses readily-available standard timber hangers, not more costly glulam-sized hangers
Standard sizes inventoried locally for immediate shipment
Dimensions
Inventoried widths: 3-1/2″, 5-1/2″, 6-3/4″, and 8-3/4″
Inventoried depths: Conventional depths of 1-1/2″ increments, as well as I-Joist compatible depths. Also available in 2″ x 10″ and 2″ x 12″ depths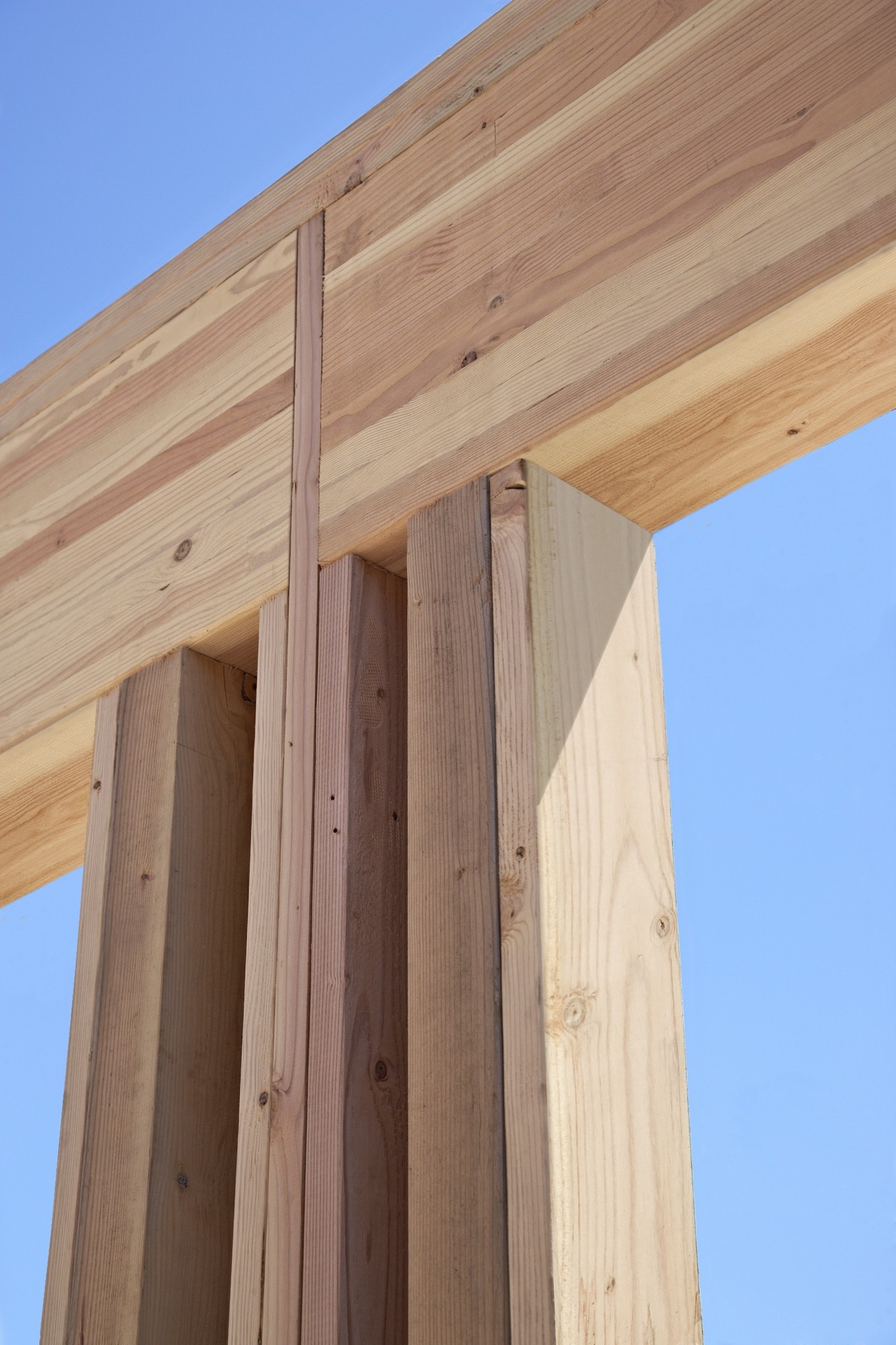 Considering custom glulam? Contact us now to speak to an expert.
Contact Us
Weight

Span

Calculator

Enter the beam width and depth to lookup the approximate weight (per foot):Enter the type of beam, span, and weight to calculate.Crunch the numbers for your next project!
How does Rosboro make full-width 3 ½" and 5 ½" Architectural Appearance X-Beam®?
X-Beam® is produced using our unique over-dimension lumber feedstock which is produced at Rosboro's sawmill. This allows us to fill, plane, and sand the finished beam to an architectural appearance and still maintain a full-framing-width product. Other glulam producers start with standard dimension lumber and finish their beams down to 3 1/8" and 5 1/8" widths that do not fit the wall framing.
What does it mean when you say X-Beam® has an Architectural Appearance?
When producing our full-framing width stock X-Beam® we smooth sand both sides and the bottom face, fill any voids over ¾", and ease the bottom edges. This means your stock beam can be used in any application, including those where the wood is left exposed for aesthetics. X-Beam® is ready for stain or paint without costly additional jobsite work.
Why is there a "TOP" stamp on my beam?
Glulam beams are manufactured in both Balanced and Unbalanced layups. The stock Rosboro X-Beam® (24F-V4) is an unbalanced layup. In unbalanced beams, the design stress of lumber used on the tension (bottom) side of the beam is higher than the lumber used on the corresponding compression (top) side, allowing a more efficient use of the timber resource. To assure the proper installation of Rosboro X-Beam® products, the top of the beam is clearly stamped with the word "TOP", which should be installed upward. Other Rosboro products, such as Big Beam DF®, X-Rim, and ESL 1.6E are balanced because they are more commonly used in applications that require that flexibility.
Why is there a crack in my Beam?
This is most likely what's called a seasoning check. Glulams are subject to the same seasoning checks or "cracks" as other wood products. Due to the shrinking of wood fibers as moisture is lost to the surrounding atmosphere, this happens naturally. Often, checks will be found near the first glue line, as the bottom lamination has more surface area exposed to the air. Also, a check will normally be found near a glue line where it meets resistance from another lamina. Because of its lower moisture content, glulam will tend to experience less seasoning checking than solid sawn timber, and rarely is the strength of the member compromised. APA publishes the "Owner's Guide to Understanding Checks in Glued Laminated Timber", a link to which can be found in the APA Technical Publication section of our Resource Library. Still have concerns? Call our Technical Service hotline at (877) 457-4139 to speak with an expert.
Can you stain or paint Glulam beams?
Yes, absolutely. We recommend using oil based paints and stains. Water based paints and stains can cause the glulam to swell and promotes checking.
Do I need a balanced beam (like a 24F-V8) in a two-span or Cantilever application?
No, this is an old rule of thumb created when design calculations were all done manually. To save time, designers used to automatically specify a balanced beam in any multi span or cantilever condition. By calculating the beam needed for the longest simple span, they could then use that same size beam for the multi span and cantilever scenarios by specifying balanced layups. A balanced beam is typically more money will not be in stock at distributors, which costs you valuable time. With today's design software it's quick and easy to evaluate each span for the most cost-effective beam. 90+% of the time a stock unbalanced X-Beam will work, saving you time and money.
Contact Rosboro
P.O. Box 20
2509 Main Street
Springfield, OR 97477