Rosboro X-Rim is the first glulam beam manufactured specifically for rim applications.
Heavy timber X-Rim™ glulam is used as a fire stop in floor systems, around stair wells and elevator shafts and it is installed in walls perpendicular to the floor joist eliminating high cost standoff hangers. X-Rim is also specified in stacked framing applications where dimensional stability is critical.
Advantages
Is zero camber
Fits flush with 2×4 and 2×6 framing
Depths match EWP and conventional framing systems
Is finished to an industrial appearance
Is kiln-dried to an average moisture content of 13%
Is manufactured to tight depth tolerances of -0" / + 3⁄32"
Is inventoried in shorter more manageable 20' lengths
Has reduced installation time
Because X-Rim is a glulam product it is less prone to swelling and moisture related issues than other EWP products like PSL, LVL and LSL because it has less open wood fiber from the manufacturing process.
Dimensions
Widths: 3-½ ", 5-½ ", 6-¾"
Depths: 9-¼", 9-½ ", 11-¼", 11- ⅞", 14", 16", 18"
Also Available with Water Resistant Sealer
Rosboro Sealed X-Rim glulam was specifically developed for rim applications in regions that experience extended periods of rain during construction. Rosboro Sealed X-Rim is coated on all four sides and both ends with Liquid WrapTM sealer, significantly reducing water penetration and minimizing swelling and shrinkage.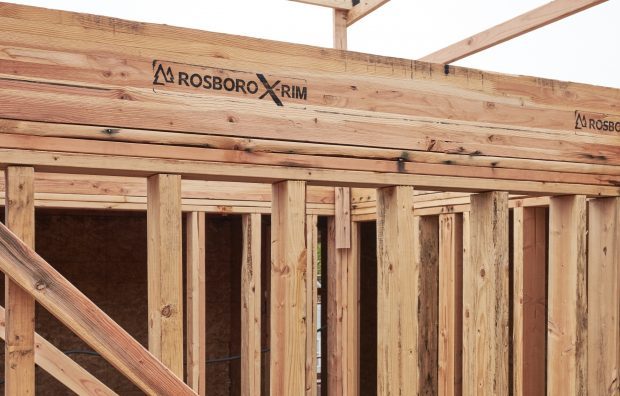 Considering custom glulam? Contact us now to speak to an expert.
Is Rosboro X-Rim available in full framing widths?
Yes, Rosboro X-Rim is manufactured in both 3 ½" and 5 ½" widths to fit flush in any exterior wall system.
Does Rosboro X-Rim meet the 2-Hour fire rating for Type III construction?
Rosboro X-Rim is not a fire-retardant-treated (FRT) product, however, in construction where the rim board is required to be 2-hour fire rated glulam rim boards can achieve this rating while safely carrying the design loads. International Building Code Section 722 allows for calculated fire resistance of exposed wood members to be determined from Chapter 16 of the ANSI/AF&PA National Design Specification for Wood Construction (NDS). In a fire the outer portion of a glulam member becomes charred. This layer of charred wood then functions as an insulator helping to protect the undamaged interior of the member from the heat. Chapter 16 of the NDS provides the necessary calculations to determine this effective char depth.